Winner of best of the city for the last 9 years in a row by the Victoria News
Barber Shop Victoria BC: Status Barber Shop
Are you looking for the Best Barber Shop in Victoria BC?
Well you found it! Status Barber Shop is home to some of Victoria's most talented Barbers. Our team is a tight-knit group that works hard everyday to help keep Victorian's looking their best. Your hair is a big part of your outward appearance, and here at Status, we take pride in sending you out the door looking your absolute best. We focus on delivering not only a great hair cut, but also a level of service that customers can rely on. A great Barber can give you the haircut you desire and keep that cut consistent every time you return.
3 Reasons to Choose Status:
Voted Best in the City 2012
Talented & Professionally Trained Staff
Massage Chairs While You Wait!
Contact Us Today: (250) 590-7828
(Walk-In's are Welcome)
Located at:
4-1010 Yates St, Victoria, BC V8V 3M6
(Behind Moxies, Next Door to Cabana Tan)
We Have Even Cut Hair for Celebrities!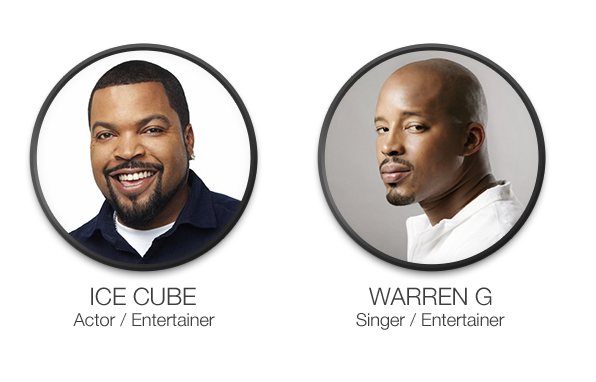 In the News
Status Barbershop help Syrian refugee get a fresh start in Victoria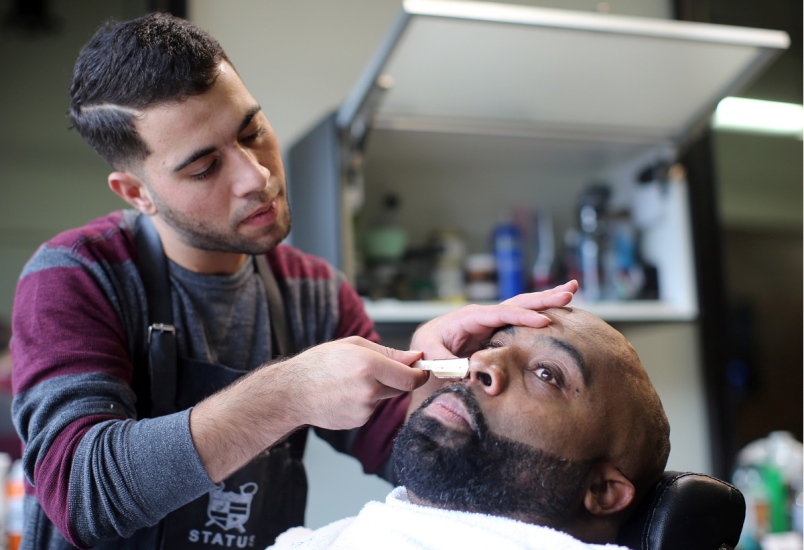 Hani Shehab shaves his boss, Troy Wilson, at Status Barbershop.
See What People Are Saying About Us…
I have been a stylist for 10 years and I used to cut my boyfriend's hair. He is so picky it drives me nuts. I must say STATUS you guys do a amazing job. Thanks for making my man look so great. I have even referred clients that want low tight fades, ill stick to the women's hair thanks. Thanks again a fan of STATUS

– Wendy Daily (Google Business Review)
---
My buddy told me to go to Status a few weeks ago when I was here for stag and man is this place wicked. The shop's got style and a great vibe. Tbone had me laughing the entire time and gave me probably the best cut I've ever had. I'll be back for sure. Thx Status.

– Nox Bardem (Google Business Review)
Call Status Barber Shop Today!
(250) 590-7828
You won't be disappointed
4-1010 Yates St, Victoria, BC V8V 3M6
(Behind Moxies, Next Door to Cabana Tan)
Pricing
MEN'S BARBER SERVICE – GOLD: $35.00
(CLIPPER FADES WITH NO SCISSORS)
INCLUDES PRODUCT, STYLING, HOT TOWEL, RAZOR OUTLINE, QUALITY SERVICE, & GREAT CONVERSATION
MEN'S BARBER SERVICE – PLATINUM: $37
(CLIPPER/ SCISSORS/BLOWDRYING/STYLING)
INCLUDES PRODUCT, STYLING, HOT TOWEL, RAZOR OUTLINE, SERVICE, & GREAT CONVERSATION
MEN'S CLIPPER SHAVE (BUZZ CUT): $23
(CLIPPER ONLY/NO TRIMMER/ ALL ONE LENGTH
INCLUDES PRODUCT, STYLING, HOT TOWEL, QUALITY SERVICE, & GREAT CONVERSATION
CHILDREN'S BASIC BARBER SERVICE- (U-14 YRS)
CLIPPER/SCISSOR $25.00 — FULL SCISSOR $30.00
INCLUDES PRODUCT, STYLING, HOT TOWEL
MEN'S SCISSOR SERVICE: $45.00
INCLUDES, STYLING, HOT TOWEL, SHAMPOO/WASH, RAZOR OUTLINE, MINI MASSAGE, CONVERSATION, ++SERVICE
FACE SERVICES
STATUS PREMIUM CLASSIC STRAIGHT RAZOR SHAVE: $45.00
INCLUDES CONSULTATION, PRE SHAVE, 3 PASS SHAVES, DRY PASS SHAVE, HOT TOWELS, POST SHAVE PRODUCTS
CLASSIC RAZOR SHAVE: $35.OO
INCLUDES CONSULTATION, PRE SHAVE, 1 PASS SHAVE, DRY HOT TOWELS, POST SHAVE PRODUCTS
BEARD AND NECK SHAVE: $25.00
INCLUDES CONSULTATION, PRE SHAVE, 1 PASS GEL SHAVE, HOT TOWELS, BEARD OIL, POST SHAVE PRODUCTS
DELUXE PRO-SHAVE (ELECTRIC SHAVER):  10-$25
INCLUDES TEA TREE OIL AFTER SHAVE, HOT TOWELS, MINI FACIAL, MASSAGE                                                                                                                        
BEARD TRIMS/ CHIN STRAPS/ CLIPPER SHAVES: 5-$35                                                      
ADDITIONAL BARBER SERVICES
HAIR TATTOOS- (DESIGN/LOGO) barbers discretion-RECOMMEND CONSULTATION: $5—$50
OUTLINES/EDGE-UPS/MARKOUTS: $22.00
BASIC SHAMPOO/ ENRICHED TEA TREE OIL SHAMPOO/CONDITIONER TREATMENT:3-$15
ALL PRICES ARE SUBJECT TO 5% PST TAX